Famoxadone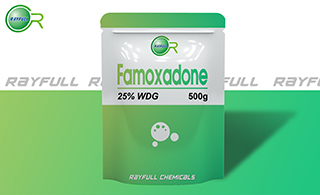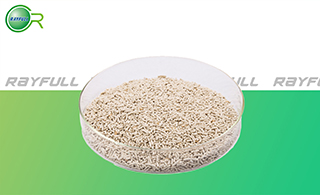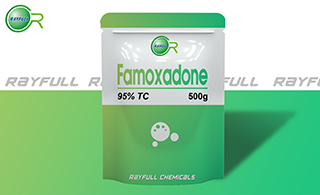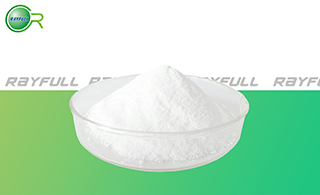 恶唑菌酮
Introduction: Famoxadone belongs to the oxazolidinedione class of chemicals and is highly active against spore germination and mycelial growth of sensitive fungi. The biochemical mechanism of action of famoxadone is inhibition of the fungal mitochondrial respiratory chain at Complex III, resulting in a decreased production of ATP by the fungal cell. Famoxadone is a fungicide to protect agricultural products against various fungal diseases on fruiting vegetables, tomatoes, potatoes, curcurbits, lettuce and grapes. It is used in combination with cymoxanil.
Common name: Famoxadone
Another name: Famoxate; Famoxadone solution; Famoxadone [ISO:BSI]; 3-anilino-5-methyl-5-(4-phenoxyphenyl)-1,3-oxazolidine-2,4-dione; etc.
Chemical name: (RS)-3-anilino-5-methyl-5-(4-phenoxyphenyl)-1,3-oxazolidine-2,4-dione
Empirical formula: C22H18N2O4
Structural formula: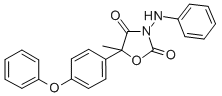 Mol. Weight: 374.39 g/mol
CAS No.: 131807-57-3
Specifications
Leading Famoxadone supplier
Famoxadone 95% TC
Famoxadone 98% TC
Famoxadone 25% WDG
Packing:
BULK PACKING
Powder: 25kg/Bag, 25kg/Drum, 50kg/Drum etc.
Liquid: 200L/Drum, 20L/Drum, 10L/Drum etc.
SMALL PACKING
Powder: 1kg/Alu bag, 500g/Alu bag, 200g/Alu bag, 100g/Alu bag, 50g/Alu bag, 15g/Alu bag etc.
Liquid: 5L/Drum, 1L/Bottle, 500ml/Bottle, 250ml/Bottle, 100ml/Bottle, 50ml/Bottle etc.
Customerized packing label
Famoxadone FAO standard
Professional registration
HAZARDS IDENTIFICATION
Hazard statement(s)
H373 (100%): Causes damage to organs through prolonged or repeated exposure.
H400 (100%): Very toxic to aquatic life.
H410 (100%): Very toxic to aquatic life with long lasting effects.
Precautionary statement(s)
P260: Do not breathe dust/fume/gas/mist/vapors/spray.
P273: Avoid release to the environment.
P314: Get medical advice/attention if you feel unwell.
P391: Collect spillage. Hazardous to the aquatic environment.
P501: Dispose of contents/container in accordance with local/regional/national/ international regulations.
Supplemental Hazard Statements: none.
MAMMALIAN TOXICOLOGY
Acute toxicity: 1) Acute oral LD50 for rats is >5000 mg/kg. 2) Acute dermal LD50 for rats is >2000 mg/kg. 3) Acute inhalation toxicity LC50 (4 h) for rats is >5.3 mg/L. 4) Skin irritation: Slightly irritating to skin (rabbits). 5) Eye irritation: Slightly irritating to eyes (rabbits). 6) Skin sensitization for guinea pig: Non-sensitizing.
NOEL: (104 w) for rats is 8.4 mg/kg/day; (18 m) for mice is 96 mg/kg/day; (1 y) for dogs is 1.2 mg/kg/day. Other Not carcinogenic. Not genotoxic.
ADI (JMPR) 0-0.006 mg/kg b.w. [2003]
Classification:
WHO Classification: U (Unlikely to present an acute hazard)
EC Risk Classification: Xn - Harmful: R48/22; N - Dangerous for the environment: R50, R53
US EPA Classification (formulation): III (Caution - Slightly toxic)
ECOTOXICOLOGY
Effect on birds: Acute oral LD50 (8 d) for Bobwhite quail is >2250 mg/kg. Effect on fish: Acute LC50 (96 h) for Rainbow trout is 0.011 mg/l. Effects on aquatic invertebrates: Acute EC50 (48 h) for Daphnia magna is 0.033 mg/l. Effects on algae: Acute 72 hour EC50 for Pseudokirchneriella subcapitata is 0.003 mg/l. Effects on bees: contact acute 48 hour LD50 is >25 μg/bee, oral acute 48 hour LD50 is >1.0 μg/bee. Effects on earthworms: Acute 14 day LC50 is 235 mg/kg.
ENVIRONMENTAL FATE
Animals Following oral application to rats, elimination is rapid. Unmetabolised famoxadone was the major component in the faeces; mono- (at 4'-phenoxyphenyl) and di- (also at 4-phenylamino) hydroxylated famoxadone were the primary faecal metabolites. In urine, products arising from cleavage of the heterocyclic ring were found. In goats and hens, there was little residue in the tissues; the majority of the administered famoxadone (c. 60%) was unmetabolised and recovered in the faeces. Metabolism was complex, involving hydroxylation, cleavage of the oxazolidinedione- aminophenyl linkage, cleavage of the phenoxyphenyl ether linkage and opening of the oxazolidinedione ring. Plants In grapes, tomatoes and potatoes, famoxadone was the main residue; no residues were found in potato tubers. In wheat, famoxadone was more extensively metabolised, primarily by hydroxylation, followed by conjugation. Soil/Environment In laboratory soil, DT50 6 d (aerobic, 20℃, 40-50% MWHC, pH 5.3-8.0, 1.1-2.9% o.m.), 28 d (anaerobic, 20℃, pH 7.2, 1.4% o.m.). Degradation routes include hydroxylation (at the 4'-phenoxyphenyl position), ring opening (with formation of a glycolic acid derivative), and is primarily microbial; it is accelerated by light.
Usage: Famoxadone was developed by DuPont. It is a fungicide used to control a broad spectrum of plant pathogenic fungi including downy mildew and blights.
Application: Biochemistry Inhibits mitochondrial electron transport, by blocking ubiquinol:cytochrome c oxidoreductase at complex III. Activity resides mainly in the (S)- isomer. Mode of action Protectant and residual fungicide. Acts mainly by inhibiting spore germination. Uses Control of a broad spectrum of plant pathogenic fungi, at 50-200 g/ha. Particularly effective against grape downy mildew, potato and tomato late and early blights, downy mildew of cucurbits, wheat leaf and glume blotch, and barley net blotch.