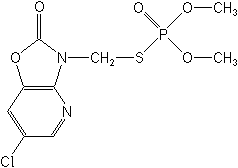 IUPAC : S-6-chloro-2,3-dihydro-2-oxo-1,3-oxazolo[4,5-b]pyridin-3-ylmethyl O,O-dimethyl phosphorothioate
CAS : S-[(6-chloro-2-oxooxazolo[4,5-b]pyridin-3(2H)-yl)methyl] O,O-dimethyl phosphorothioate
Molecular Formula : C9H10ClN2O5PS
Azamethiphos It controls cockroaches, various beetles, bugs, spiders and other arthropods, especially to nuisance flies. It can be used to kill flies in public places, meadows and farms as it has no toxicity against mammals. It has also been used in the UK (particularly in Scotland) in fish farming, to control external parasites such as sea lice on the Atlantic salmon. This application replaces the use of the hazardous "red list" pollutant Dichlorvos. The effectiveness can last as long as 10 weeks for once application.
Specifications
Leading Azamethiphos supplier
Azamethiphos 98%TC
Azamethiphos 50%WP
Azamethiphos 10%WP
Azamethiphos 1%G
Customerized Packing label
Azamethiphos FAO standard
Professional registration