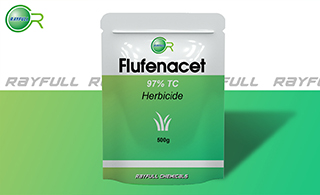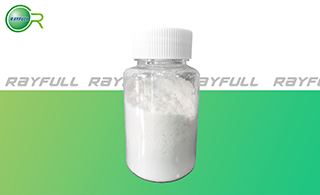 Introduction: Flufenacet is a synthetic compound of the oxyacetamide family of chemicals used as an herbicide. Flufenacet is specifically a soil herbicide, acting pre-emergence. Flufenacet is selective in its action, target weeds being annual grasses. Flufenacet affects cell membranes of meristematic tissues in these grass species, interfering with both membrane selectivity and permeability. This prevents cell division, therefore preventing unwanted grass species from growing.
Common name: Flufenacet
Another name: Fluthiamide; Thiafluamide; Fluthiamid; FOE 5043; FOE-5043; N-(4-fluorophenyl)-N-(1-methylethyl)-2-((5-(trifluoromethyl)-1,3,4-thiadiazol-2-yl)oxy)acetamide; etc.
Chemical Name (IUPAC): 4'-fluoro-N-isopropyl-2-[5-(trifluoromethyl)-1,3,4-thiadiazol-2-yloxy]acetanilide
Structural formula:

Empirical formula: C14H13F4N3O2S
Mol. Weight: 363.33
CAS No.: 142459-58-3
Specifications
Leading Flufenacet supplier
Flufenacet 97% TC
Flufenacet 410g/L SL
Packing
BULK PACKING
Powder: 25KG/Bag, 25KG/Drum, 50KG/Drum etc.
Liquid: 200L/Drum, 20L/Drum, 10L/Drum ect.
SMALL PACKING
Powder: 1kg/Alu bag, 500g/Alu bag, 200g/Alu bag, 100g/Alu bag, 50g/Alu bag, 15g/Alu bag etc.
Liquid: 5L/Drum, 1L/Bottle, 500ml/Bottle, 250ml/Bottle, 100ml/Bottle, 50ml/Bottle etc.
Customerized Packing label
Flufenacet FAO standard
Professional registration
HAZARDS IDENTIFICATION
Hazard statement(s)
H302 Harmful if swallowed.
H317 May cause an allergic skin reaction.
H373 Causes damage to organs through prolonged or repeated exposure
H400 Very toxic to aquatic life.
H410 Very toxic to aquatic life with long lasting effects.
Precautionary statement(s)
P260 Do not breathe vapours.
P264 Wash hands thoroughly after handling.
P273 Avoid release to the environment.
P301+P330 IF SWALLOWED: rinse mouth.
P312 Call a POISON CENTER or doctor/physician if you feel unwell.
P501 Dispose of contents/container as hazardous waste.
Supplemental Hazard Statements none
MAMMALIAN TOXICOLOGY
Acute toxicity: 1) Acute oral LD50 for male and female rats is 598 a.i.mg/kg. 2) Acute percutaneous LD50 for rats is >2000 mg/kg. 3) Acute inhalation toxicity LC50 (4 h) for rats is 3.74 a.i.mg/l. 4a.i.) Skin irritation: Non-irritating to skin (rabbits). 5) Eye irritation: Non-irritating to eyes (rabbits). 6) Skin sensitization for guinea pig: Not a skin sensitiser.
NOEL (2 y) for male rats is 1.2 mg/kg/day, for female rats is 1.5 mg/kg/day; NOEL (1 y) for male dogs is 1.29 mg/kg/day, for female dogs is 1.14 mg/kg/day. Other Not carcinogenic. Not mutagenic.
ADI (JMPR) 0.005 mg/kg b.w.
Classification: WHO Classification: II (Moderately hazardous)
EC Risk Classification: Xn - Harmful: R22, R43, R48/22; N - Dangerous for the environment: R50, R53
US EPA Classification (formulation): III (Caution - Slightly toxic)
ECOTOXICOLOGY
Effect on birds: Acute oral LD50 for Bobwhite quail is 1608 a.i.mg/kg. Effect on fish: Acute LC50 (96 h) for Bluegill sunfish is 2.13 a.i.mg/l. Effects on aquatic invertebrates: Acute EC50 (48 h) for Daphnia magna is 3.26 a.i.mg/l. Effects on algae: Acute EC50 (72 h) for Raphidocelis subcapitata is 0.002 a.i.mg/l. Effects on bees: Contact acute (48 h) LD50 is >170 a.i.μg/bee, Oral acute (48 h) LD50 is >170 a.i.μg/bee. Effects on earthworms: Acute 14 day LC50 is 219 a.i.mg/kg.
ENVIRONMENTAL FATE
Animals After oral administration, flufenacet is rapidly excreted by animals (rat, goat, hen); hence accumulation in organs and tissues is not to be expected. Metabolism takes place via cleavage of the molecule, followed by conjugation of the fluorophenyl moiety with cysteine and formation of a thiadazolone and its various conjugates. Plants In maize, soya beans and cotton, flufenacet is rapidly and extensively metabolised; no parent compound was detected, even at early sampling dates. Although only three metabolites were of quantitative significance, a "total residue" approach was defined for plants, based on the total amount of N-fluorophenyl- N-isopropyl-derived residues. Soil/Environment Flufenacet is readily degraded in soil, ultimately forming CO2; DT50 10-54 d. Stable to photolysis in soil. Koc (sandy loam) 354 (range 233-613). Results from lysimeter studies demonstrate that, even under worst case conditions, contamination by the parent compound of soil layers below 1.2 m, or of groundwater, at concentrations >0.1 mg/l, are very unlikely.
Usage: Flufenacet was developed by Bayer Crop Science. Flufenacet is an oxyacetanilide herbicide applied before crops have emerged. It mainly control annual grassy weeds and some broad-leaf weeds in wheat, barley, maize, soybean etc.
Application: Biochemistry Its effect is an unclassified inhibition of cell division and cell growth. Primary target site may be in fatty acid metabolism. Tolerance is attributed to rapid detoxification by glutathione transferases. Mode of action Pre- and early post- emergence herbicide. It is systemic, with apoplastic transport and distribution and with meristematic activity. Uses Selective herbicide with broad spectrum grass control and control of some broad-leaved weeds; pre-plant-incorporated, pre-plant-surface, pre-emergence in maize and soya beans, pre-planting in tomatoes, pre-emergence in potatoes and sunflowers, and post-emergence in maize, wheat and rice. Application rates up to 0.9 kg a.s./ha.