FIPRONIL 氟虫腈
Introduction: Fipronil is an insecticide used to control a broad range of insect pests such as ants, beetles, cockroaches, fleas, termites, thrips, black vine weevil and other insects in hardy ornamentals, non-edible ornamentals or turf.
Common name: Fipronil
Another name: Regent, Goliath, Nexa, Adonis, Termidor, Ultrathor, Taurus, Combat Ant-Rid, Radiate.
Chemical name: 5-amino-1-(2,6-dichloro-α,α,α-trifluoro-p-tolyl)-4-trifluoromethylsulfinylpyrazole
-3-carbonitrile
Empirical formula: C12H4Cl2F6N4OS
Structural formula: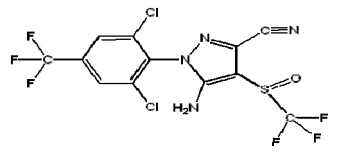 Mol. Weight: 437.15 g/mol
CAS No.: 120068-37-3
Specifications
Leading Fipronil supplier
Fipronil 50 g/L SC
Fipronil 200 g/L SC
Fipronil 80% WDG
Fipronil 95% TC
Packing:
BULK PACKING
Powder: 25kg/Bag, 25kg/Drum, 50kg/Drum etc.
Liquid: 200L/Drum, 20L/Drum, 10L/Drum ect.
SMALL PACKING
Powder: 1kg/Alu bag, 500g/Alu bag, 200g/Alu bag, 100g/Alu bag, 50g/Alu bag, 15g/Alu bag etc.
Liquid: 5L/Drum, 1L/Bottle, 500ml/Bottle, 250ml/Bottle, 100ml/Bottle, 50ml/Bottle etc.
Customerized packing label
Fipronil FAO standard
Professional registration
HAZARDS IDENTIFICATION
Hazard statement(s)
H301: Toxic if swallowed.
H311: Toxic in contact with skin.
H331: Toxic if inhaled.
H372: Causes damage to organs through prolonged or repeated exposure.
H410: Very toxic to aquatic life with long lasting effects.
Precautionary statement(s)
P260: Do not breathe dust/fume/gas/mist/vapors/spray.
P261: Avoid breathing dust/fume/gas/mist/vapors/spray.
P264: Wash ... thoroughly after handling.
P270: Do not eat, drink or smoke when using this product.
P271: Use only outdoors or in a well-ventilated area.
P273: Avoid release to the environment.
P280: Wear protective gloves/protective clothing/eye protection/face protection.
P301+P310: IF SWALLOWED: Immediately call a POISON CENTER/doctor/...
P302+P352: IF ON SKIN: wash with plenty of water.
P304+P340: IF INHALED: Remove person to fresh air and keep comfortable for breathing.
P311: Call a POISON CENTER or doctor/...
P312: Call a POISON CENTER or doctor/... if you feel unwell.
P314: Get medical advice/attention if you feel unwell.
P321: Specific treatment (see ... on this label).
P322: Specific measures (see ...on this label).
P330: Rinse mouth.
P361: Take off immediately all contaminated clothing.
P363: Wash contaminated clothing before reuse.
P391: Collect spillage.
P403+P233: Store in a well-ventilated place. Keep container tightly closed.
P405: Store locked up.
P501: Dispose of contents/container to ...
Supplemental Hazard Statements: none
MAMMALIAN TOXICOLOGY
Acute toxicity: 1) Acute oral LD50 for rat: 92 a.i.mg/kg. 2) Acute dermal LD50 for rat: 354 a.i.mg/kg. 3) Inhalation LC50 (4 h) for rat: 0.36 a.i. mg/L. 4) Slightly - irritating to skin (rabbits). 5) Mildly- irritating to eyes (rabbits). 6) Not a skin sensitiser (guinea pigs). No indications of a developmental toxicity or teratogenic effects were seen in animal studies. Signs of toxicity during a 52-week chronic rat feeding study included reduced feeding and food conversion efficiency, reduced body weight gain, seizures and seizure-related death, changes in thyroid hormones, increased mass of the liver and thyroid, and kidney effects. The EPA has classified fipronil a Group C Possible Human Carcinogen based on laboratory animal studies (increased thyroid tumors in male and female rats). Results from a number of mutagenicity studies, there is no indication that the substance is mutagenic. A neurotoxic in both rats and dogs as shown in the acute and sub-chronic screening in the rat.
ADI: 0.0002 mg/kg b.w. [1997, 2003]
Classification:
Toxicity class WHO (a.i.): II (Moderately hazardous)
US EPA Classification (formulation): II(Warning - Moderately toxic)
EC Risk Classification: T - Toxic: R23/24/25, R48/25; N - Dangerous for the environment: R50, R53
ECOTOXICOLOGY
Effect on birds: high toxicity to birds, acute oral LD50 for Colinus virginianus is 11.3 a.i.mg/kg. Effect on fish: moderate toxicity to fish, acute 96 hour LC50 for Rainbow trout is 0.248 a.i.mg/L. Effect on aquatic invertebrates: moderate toxicity to aquatic invertebrates, acute 48 hour EC50 for Daphnia magna is 0.19 a.i.mg/L. Effect on algae: moderate toxicity to algae, acute 72 hour EC50 for Scenedemus subspicatus is 0.068 a.i.mg/L. Effect on honeybees: high toxicity to honeybees, contact acute 48 hour LD50 is 0.0059 a.i.μg/bee; Oral acute 48 hour LD50 is 0.00417 a.i.μg/bee. Effect on earthworms: moderate toxicity to earthworms, acute 14 day LC50 for Eisenia foetida is >500 a.i.mg/kg.
ENVIRONMENTAL FATE
Fipronil's production may result in its release to the environment through various waste streams; its use as an insecticide will result in its direct release to the environment. If released to air, a vapor pressure of 2.78×10-9 mm Hg at 25 deg C indicates fipronil will exist solely in the particulate phase in the atmosphere. Particulate-phase fipronil will be removed from the atmosphere by wet or dry deposition. Fipronil contains chromophores that absorb at wavelengths >290 nm and, therefore, may be susceptible to direct photolysis by sunlight. If released to soil, fipronil is expected to have low to no mobility based upon Koc values of 825 to 6863. Volatilization from moist soil surfaces is not expected to be an important fate process based upon an estimated Henry's Law constant of 8.4×10-10 atm-cu m/mole. Photolytic half-lives in soil for fipronil were reported as 147 to 217 hours. Fipronil is expected to biodegrade in soil and water based upon studies showing estimated degradation half-lives of 25.1 to 91.2 days in three sediments under aerobic conditions and 4.6 to 18.5 days for the same sediments under anaerobic conditions. If released into water, fipronil is expected to adsorb to suspended solids and sediment based upon the Koc values. Volatilization from water surfaces is not expected to be an important fate process based upon this compound's estimated Henry's Law constant. A whole body BCF of 321 in bluegill suggests bioconcentration in aquatic organisms is high. Fipronil is stable to hydrolysis at pH 5.5 and pH 7, but has a hydrolysis half-life of 28 days at pH 9. An aqueous photolytic half-life for fipronil was reported as 4.1 hours. Occupational exposure to fipronil may occur through inhalation of dust and dermal contact with this compound at workplaces where fipronil is produced or used. Monitoring data indicate that the general population may be exposed to fipronil via inhalation of dust and dermal contact with this compound or other products containing fipronil.
Usage: Fipronil was discovered and developed by Rhône-Poulenc between 1985 and 1987, and placed on the market in 1993 under the B2 U.S. Patent 5,232,940 B2. Between 1987 and 1996, fipronil was evaluated on more than 250 insect pests on 60 crops worldwide, and crop protection accounted for about 39% of total fipronil production in 1997. Since 2003, BASF holds the patent rights for producing and selling fipronil-based products in many countries.
Application: Fipronil is a broad-spectrum insecticide that belongs to the phenylpyrazole chemical family. Fipronil disrupts the insect central nervous system by blocking GABA-gated chloride channels and glutamate-gated chloride (GluCl) channels. This causes hyperexcitation of contaminated insects' nerves and muscles. Fipronil's specificity towards insects is believed to be due to its greater affinity to the GABA receptor in insects relative to mammals and its effect on GluCl channels, which do not exist in mammals. Fipronil is used for controlling of multiple species of thrips on a broad range of crops by foliar, soil or seed treatment. Control of corn rootworm, wireworms and termites by soil treatment in maize. Control of boll weevil and plant bugs on cotton, diamond back moth on crucifers. Foliar application rates range from 10-80 g/ha; soil treatment rates 100-200 g/ha.