Niclosamide
氯硝柳胺
Introduction: Niclosamide is an orally bioavailable chlorinated salicylanilide, with anthelmintic and potential antineoplastic activity. Upon oral administration, niclosamide specifically induces degradation of the androgen receptor (AR) variant V7 (AR-V7) through the proteasome-mediated pathway. This downregulates the expression of the AR variant, inhibits AR-V7-mediated transcriptional activity, and reduces AR-V7 recruitment to the prostate-specific antigen (PSA) gene promoter. Niclosamide also prevents AR-V7-mediated STAT3 phosphorylation and activation. This inhibits AR/STAT3-mediated signaling and prevents expression of STAT3 target genes. Altogether, this may inhibit growth of AR-V7-overexpressing cancer cells. The AR-V7 variant, which is encoded by contiguous splicing of AR exons 1/2/3/CE3, is upregulated in a variety of cancer cell types, and is associated with both cancer progression and resistance to AR-targeted therapies. Niclosamide is used for the treatment of most tapeworm infections. Helminths (worms) are multicellular organisms that infect very large numbers of humans and cause a broad range of diseases. Over 1 billion people are infected with intestinal nematodes, and many millions are infected with filarial nematodes, flukes, and tapeworms. They are an even greater problem in domestic animals.
Common name: Niclosamide
Another name: Bayer 2353; Bayer 73; Bayluscide; Clonitralide; Fenasal; Niclocide Niclosamide; Niclosamide, 2-Aminoethanol (1:1); Phenasal; Radewerm; etc.
Chemical Name (IUPAC): 2'5-dichloro-4'-nitrosalicylanilide
Structural formula: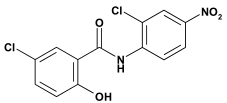 Empirical formula: C13H8Cl2N2O4
Mol. Weight: 327.12
CAS No.: 50-65-7
Specifications
Leading Niclosamide supplier
Niclosamide 95% TC
Niclosamide 480 g/L EC
Packing
BULK PACKING
Powder: 25KG/Bag, 25KG/Drum, 50KG/Drum etc.
Liquid: 200L/Drum, 20L/Drum, 10L/Drum ect.
SMALL PACKING
Powder: 1kg/Alu bag, 500g/Alu bag, 200g/Alu bag, 100g/Alu bag, 50g/Alu bag, 15g/Alu bag etc.
Liquid: 5L/Drum, 1L/Bottle, 500ml/Bottle, 250ml/Bottle, 100ml/Bottle, 50ml/Bottle etc.
Customerized Packing label
Niclosamide FAO standard
Professional registration
HAZARDS IDENTIFICATION
Hazard statement(s)
H400: Very toxic to aquatic life.
H410: Very toxic to aquatic life with long lasting effects.
Precautionary statement(s)
P273: Avoid release to the environment.
P391: Collect spillage.
P501: Dispose of contents/container in accordance with local regulation.
Supplemental Hazard Statements: none.
MAMMALIAN TOXICOLOGY
Acute toxicity: 1) Acute oral LD50 for rats is >5000 mg/kg. 2) Acute percutaneous LD50 for rats is 2000 mg/kg. 3) Acute inhalation toxicity LC50 for rats is 20 mg/l. 4) Skin irritation: Non-irritating to skin (rabbits). 5) Eye irritation: Non-irritating to eyes (rabbits). 6) Skin sensitization for guinea pig: Not a skin sensitiser.
NOEL: NOEL (2 y) for male rats is 2000 mg/kg diet, for female rats is 8000 mg/kg diet, for mice is 200 mg/kg diet; NOEL (1 y) for dogs is 100 mg/kg b.w. Other No relevant mutagenic or embryotoxic effect.
ADI 3 mg/kg b.w.
Classification:
WHO Classification: U (Unlikely to present an acute hazard)
EC Risk Classification: Xn - Harmful: R22
US EPA Classification (formulation): II (Warning - Moderately toxic)
ECOTOXICOLOGY
Effect on birds: Acute oral LD50 for Bobwhite quail is >2000 mg/kg. Short term dietary LC50 (5 d) for Mallard ducks is >5000 mg/kg. Effect on fish: Acute LC50 (96 h) for Rainbow trout is 1.83 mg/l. Effects on aquatic invertebrates: Acute EC50 (48 h) for Daphnia magna is 1.3 mg/l. Effects on algae: Acute EC50 (72 h) for Pseudokirchneriella subcapitata is 1.1 mg/l. Effects on bees: Contact acute (48 h) LD50 is >200 μg/bee, Oral acute (48 h) LD50 is >71 μg/bee. Effects on earthworms: Acute 14 day LC50 is >1000 mg/kg.
ENVIRONMENTAL FATE
Animals Following oral administration, 14C-niclosamide was absorbed and metabolised in the rat. The major metabolite in the urine was the reduced compound 2',5-dichloro-4'-aminosalicylanilide ([10558-45-9]); several labile conjugates were also detected. The major constituent in the faeces was unchanged niclosamide, although considerable amounts of 2',5-dichloro-4'-aminosalicylanilide were also present; parent compound is present not only because of non-absorption, but also because of release from the biliary conjugate by b-glucuronidase of the intestinal microflora. Another study indicates that niclosamide is very poorly absorbed after dermal application. Radioactivity in the urine and faeces after application of 14C-niclosamide accounted for <2% and 10% of the labelled compound applied to pig and rat skin, respectively; c. 20% was recovered from the area of application. Studies in fish with niclosamide and its 2-aminoethanol salt, indicate that niclosamide is rapidly excreted, as the glucuronide conjugate, and that there is little biomagnification. Soil/Environment There was a rapid decline in niclosamide residues in paddy water; degradation followed pseudo-first order kinetics, DT50 0.3 d. At harvest, niclosamide residues were below the detection limit of 0.03 mg/kg in rice leaves, stalk and grain, indicating that the use of niclosamide as a molluscicide in rice production does not lead to persistent residues in the rice paddy ecosystem. An aqueous solution of 14C-niclosamide was 95% degraded after 14 d exposure to long-wavelength u.v. light. No degradation occurred within 56 days either in buffered solution (pH 5.0, 6.9 and 8.7) or in pond water (initial pH 7.8).
Usage: Niclosamide was developed by Bayer Crop Science. It keep high concentrations in the intestine, section head and tapeworms can be killed by recent, clinically used to remove the beef tapeworm, and pork tapeworm and short film shell tapeworm, played than betel nuts, pumpkin seeds significantly.
Application: Niclosamide is a teniacide in the anthelmintic family especially effective against cestodes that infect humans. It is also used as a piscicide. It is stressed that while antihelmintics are a drug family used to treat worm infections, Niclosamide is used specifically to treat tapeworms and is not effective against other worms such as pinworms or roundworms. It is a chewable tablet taken orally, dosage depending on type of worm and patient's age and/or weight. Niclosamide molecules are lethal to tapeworms upon contact. Mode of action Niclosamide inhibits glucose uptake, oxidative phosphorylation, and anaerobic metabolism in the tapeworm. Uses Control of golden apple snail in rice. Control of schistosomiasis and fascioliasis in man by killing fresh-water snails which act as intermediate hosts. Also used for veterinary control of tapeworm infestations.