Pirimicarb
抗蚜威
Introduction: Pirimicarb is the ISO approved common name for 2-dimethylamino-5,6-dimethylpyrimidin-4-yl dimethylcarbamate. It is a selective aphicide that is used extensively on a broad range of crops, including vegetable, cereal and orchard crops. The mode of action of pirimicarb is by inhibition of acetylcholinesterase activity.
Common name: Pirimicarb
Another name: 2-dimethylamino-5,6-dimethylpyrimidin-4-yldimethylcarbamate; 5,6-dimethyl-2-dimethylamino-4-dimethylcarbamoyloxypyrimidine; Pirimor; Pyrimor; ZZ-Aphox; etc.
Chemical Name (IUPAC):
2-dimethylamino-5,6-dimethylpyrimidin-4-yl dimethylcarbamate
Structural formula: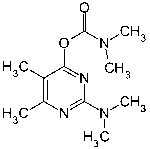 Empirical formula: C11H18N4O2
Mol. Weight: 238.39
CAS No.: 23103-98-2
Specifications
Leading Pirimicarb supplier
Pirimicarb 95% TC
Pirimicarb 50% WDG
Pirimicarb 50% WP
Pirimicarb 25% WP
Packing
BULK PACKING
Powder: 25KG/Bag, 25KG/Drum, 50KG/Drum etc.
Liquid: 200L/Drum, 20L/Drum, 10L/Drum ect.
SMALL PACKING
Powder: 1kg/Alu bag, 500g/Alu bag, 200g/Alu bag, 100g/Alu bag, 50g/Alu bag, 15g/Alu bag etc.
Liquid: 5L/Drum, 1L/Bottle, 500ml/Bottle, 250ml/Bottle, 100ml/Bottle, 50ml/Bottle etc.
Customerized Packing label
Pirimicarb FAO standard
Professional registration
HAZARDS IDENTIFICATION
Hazard statement(s)
H301: Toxic if swallowed.
H400: Very toxic to aquatic life.
H410:Very toxic to aquatic life with long lasting effects.
Precautionary statement(s)
P273: Avoid release to the environment.
P264: Wash hands thoroughly after handling.
P270: Do not eat, drink or smoke when using this product.
P301+P310: IF SWALLOWED: Immediately call a POISON CENTER/ doctor.
P321: Specific treatment (see on this label).
P330: Rinse mouth.
P391: Collect spillage.
P405: Store locked up.
P501: Dispose of contents/container in accordance with local/regional/national regulations.
Supplemental Hazard Statements: None.
MAMMALIAN TOXICOLOGY
Acute toxicity: 1) Acute oral LD50 for rats is >142 mg/kg. 2) Acute percutaneous LD50 for rabbits is >2000 mg/kg. 3) Acute inhalation toxicity LC50 (4 h) for rats is 0.86 mg/l. 4) Skin irritation: Non-irritating to skin (rabbits). 5) Eye irritation: Non-irritating to eyes (rabbits). 6) Skin sensitization for guinea pig: Not a skin sensitiser.
NOEL: NOEL (2 y) for dogs 2 mg/kg daily, for rats 3.7 mg/kg daily. Other Not carcinogenic; no adverse reproductive effects.
ADI (JMPR) 0-0.02 mg/kg b.w. [1982, 2004].
Classification:
WHO Classification: II (Moderately hazardous)
EC Risk Classification:T - Toxic: R25; N - Dangerous for the environment: R50, R53.
US EPA Classification (formulation): II (Warning - Moderately toxic)
ECOTOXICOLOGY
Effect on birds: Acute oral LD50 for Bobwhite quail is 20.9 mg/kg. Effect on fish: Acute LC50 (96 h) for Rainbow trout is <18 mg/l. Effects on aquatic invertebrates: Acute EC50 (48 h) for Daphnia magna is 40 mg/l. Effects on algae: Acute EC50 (72 h) for Scenedesmus quadricauda is 0.017 mg/l. Effects on bees: Contact acute (48h) LD50 is 53.1 μg/bee, Oral acute (48 h) LD50 is 4.0 μg/bee. Effects on earthworms: Acute 14 day LC50 is >60 mg/kg.
ENVIRONMENTAL FATE
EHC 64 (WHO, 1986; a review of carbamate insecticides in general). Animals In mammals, the major metabolites are 2-dimethylamino-5,6-dimethyl-4-hydro xypyrimidine, 2-methylamino-5,6-dimethyl-4-hydroxypyrimidine, 2-amino-5,6- dimethyl-4-hydroxypyrimidine and 2-dimethylamino-6-hydroxymethyl-5-methyl- 4-hydroxypyrimidine. Soil/Environment DT50 in soil 7-234 d, according to soil type (range o.m. 1.7-51.9%, pH 5.5-8.1).
Usage: Pirimicarb was developed by Syngenta. It is a selective aphicide used in cereals, fruit, ornamentals, strawberries, potatoes, sugar beet, fodder beet, cotton, oilseed rape, tobacco, and glasshouse crops, effective against organophosphorus-resistant Myzus persicae.
Application: Biochemistry Cholinesterase inhibitor. Mode of action Selective systemic insecticide with contact, stomach, and respiratory action. Absorbed by the roots, and translocated through the xylem. Penetrates the leaves, but is not translocated extensively. Uses A selective aphicide used in a wide range of crops, including cereals and oilseeds (at 125-250 g/ha), potatoes and other vegetables (at 125-375 g/ha), fruit (at 250-750 g/ha), ornamentals and other non-food uses (at 50-500 g/ha). Effective against organophosphorus-resistant Myzus persicae.